WINEMAKERS
The art and the ancient tradition of the hand-made wood vat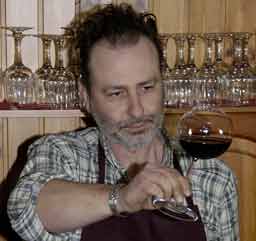 Over 150 years ago, Roberto Urscheler's great-grandfather Mr. Paolo Gaggino established a vineyard and built a winery in Bazzana di Mombaruzzo, a small town in the heart of the South Piedmont wine district. By doing so, he established the family wine-making business whose traditions still influence Roberto's wine-making today. His unlimited passion for winemaking, his absolute commitment to quality, and his innovative style in combining the best of traditional approaches with the science of new methods, enables him to produce excellent wines that represent great value for money. Roberto Urscheler's supreme ambition and goal is to have his winery produce small quantities of noble wines which consistently embody the unique and enduring characteristics of soil and microclimate by respecting the tradition of the classic Italian style. He is very much dedicated to quality rather than quantity.

Roberto Urscheler's winery extends across 5 hectares of vineyards around the ancient "cascina" (farm-house) at the top of the hill, together with the best crops of Barbera selected from the remaining 3 hectares of leased vineyards.
Roberto Urscheler comments:

"My primary purpose as grower and wine-maker lies in my desire to invite my cherished clients to re-discover every detail that goes into the ancient 'cru' (e.g. Barbera or Cortese vines) of the Asti region. It is really highly emotional for me to re-discover the ancient wine-making style, as my grand father used to do in the past. It means reading once again the history, the art and the poetry of our ancestors. Here, inside this extraordinary 3550 litre wooden vat, hand-made with the finest Allier oak, we put our best crops of Barbera, selected from our family vineyard at the top of the hill (called sori), ideally situated in terms of sun exposure, and blessed with a perfect microclimate."
More pictures at Roberto's cantina.
back to meet the winemakers